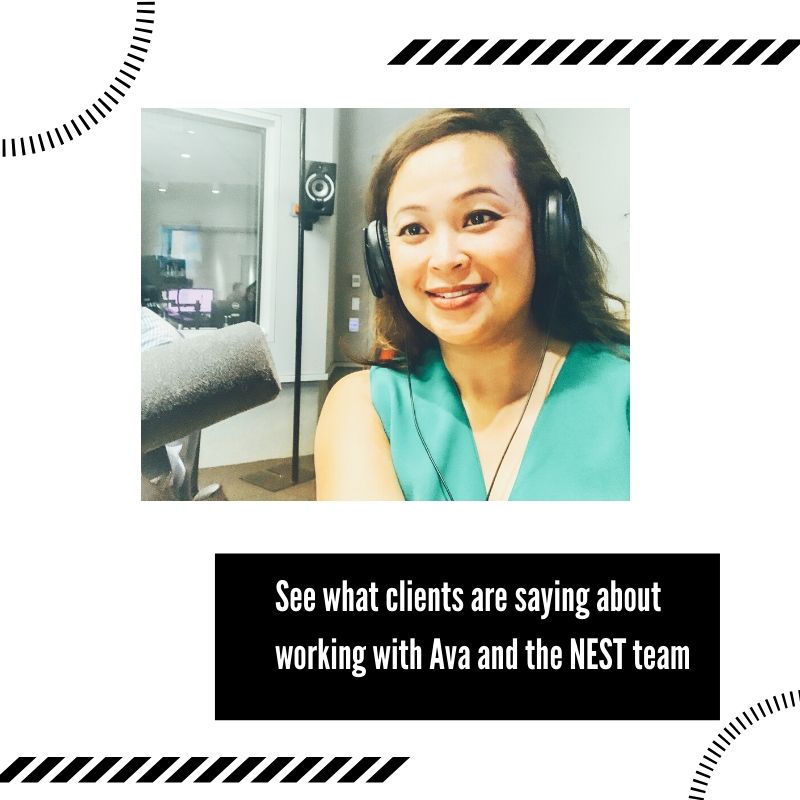 Homebuying can be quite daunting and stressful, especially if you've never done it before.Thankfully, we worked with Ava to find our first home. She made the whole process go as smoothly as possible for us. She really listened to what we wanted while also offering valuable, thoughtful advice based on her experiences and extensive knowledge. And in the end, we ended up with the house of our dreams, at a price that was within our budget. As first-time homebuyers, we wanted a home that was affordable and attractive while being in a safe community. Ava gave us lists of only the most promising and best matches for us on the market. It was important to us that she kept our needs in mind. She also helped us to have more realistic expectations. If you've ever watched one of those HGTV shows, you'll see real estate agents who either want to move mountains for their clients or want to find the best fit within the buyers' means. Ava is the latter. She didn't promise miracles, but she did work to find us a house that met our criteria, that we could afford. Another great thing about working with Ava is that she is incredibly well-connected. She knows all sorts of experts--from contractors to home inspectors. She referred us to a fantastic home inspector who was very thorough. This responsible vendor identified problems with a house that we almost bought (thank goodness!), and he noticed a few things that the seller of our current home needed to fix for us before we moved in. Ava's responsiveness and thoroughness are exemplary. She constantly e-mailed us updates and other information. She checked our forms carefully to make sure we didn't miss anything. She followed up with other agents or sellers on our behalf, and made sure we didn't lose out on any good opportunities.
Lastly, Ava also thinks outside the box. She found a few places that didn't fit our desired home to the tee, but she thought were still worth checking out. Of those atypical picks, we actually liked a few of them, though we weren't able to buy any of those for reasons outside of Ava's control. Besides being knowledgeable, I think it's important for realtors to be creative and good at problem solving. Flexibility on the buyers' and realtor's end is also equally important.We had a great experience working with her, and would highly recommend Ava whether you're an inexperienced or seasoned homebuyer.
---
Thanks to Mrs. Marvelous Ava for helping us purchased our condo in Annandale, VA. then when we were ready to move to Texas, once again we selected Mrs. Ava to shine our property before listing. we were out of state, and she helped us close the deal on the property. she's a 5 Star, Top Producer!
Ava was a gem to work with! She helped me both buy a house and sell a house and was excellent at both. Ava is extremely personable, knowledgeable, and hard working; I hate to admit that I even called her on her vacation, but she always pleasantly responded (regardless of the time difference). I'm happy to say that I found a forever realtor, but also a good friend. One of my favorite traits about Ava is her honesty. She never pushes you to purchase a house that she doesn't genuinely believe is a good fit for you. I would highly recommend anyone looking to buy or sell (at any price point I might add) to go through Ava! Thanks for everything!

When I floated the idea of real estate as an investment, Ava was very quick to discuss its pros and cons. Unlike most real estate agents who believe that real estate is the way to go, she explained to me that real estate should be part of everyone's portfolio but you should not, put all yours eggs in one basket.
Knowledgeable and great problem solvers - Ava and Vance of the Westgate's team - NEST homes + investments reviewed the market comps and helped us prepare
our property so that we can quickly market it to not miss the peak selling season. We are pleased with the quick sale, final sales price, and all the tips the ladies provided. When issues arise, the ladies were quick with solutions and immediately addressed it. In our case, it was with a contractor that we had used before. Surprisingly this time this contractor didn't complete the job to our satisfaction and jeopardized us closing on time. Ava and Vance jumped in by making recommendations of other contractors and got quotes and negotiated on our behalf. They were caring and calm the whole time. Happily we made it to closing day on time and
now we are moving forward. Buying and selling can be a stressful process so it is so important to have someone you can trust and are experienced like these ladies. We are very happy and highly recommend Westgate Realty group Inc.
Thank you Vance and Ava!
Stephanie Vg
---
Ava impresses me as a very intelligent, thoughtful professional who takes her time to explain all the intricacies of a real estate transaction to make sure that her client's interests are put first. I have no reservation in recommending Ava as a listing or as a buyer's agent.
Ava is fantastic -- smart, savvy, detail-oriented, and patient. She really is on top of things, and has navigated me through the all the trials and tribulations of finding a place. I really didn't know what I wanted, or what was reasonable at first, and Ava guided me through the process. She
sent me e-mails several times a day showing various listings, and went out with me to visit the places. When talking with other realtors, she was a complete advocate for me. When we did the walk-through, she was incredibly thorough, taking pictures of everything to document the current condition of the place. She put together all of the documentation, walking me through everything. And followed up with it all. It was really a relief to know that I had someone there working for me, advocating, pointing out things you just don't know about unless you're familiar with the process. Not to mention someone who's honest, pleasant, and funny. That really helps when you are going through a stressful process. And did I say that she's detail-oriented? She's still texting me making things are followed-up on! So, with Ava's help, I found a great place, at a great price, and I couldn't have done it without her. I don't usually gush like this, but I would absolutely recommend Ava to anyone.
Review Rating: 5/5 Stars
We worked with Ava Nguyen from Westgate on house we just bought. She was the sellers agent and we represented ourselves. She could not have been any more honest and fair to us. She did an amazing job representing her clients but also answering our question and helping out pull whole deal together. We are very thankful we got to work with her and will be calling her when we are ready to buy our next home!
We had a wonderful first-time home buying experience. Ava walked us through the entire process from the mortgage pre-approval to getting the house keys at settlement. With her recommendations on new property listings, hot neighborhoods, and quality home improvement subcontractors, we felt like we were always in the best position to make an offer when the opportunity came up. Our conversations were always pleasant, and her honest opinions kept our home search realistically focused. The combination of Ava's insight on the real estate market and her understanding of what we wanted in a home were invaluable to us. We will definitely return when it's time to upgrade!
---
Our family were trying to look an agent to sale ours' house...Our house was a complete mess. We trying to find a good agent that could sale our house and understanding the value of ours house to sale in a responsible ways. Moreover, an agent that could helps us in every needs like could be our
teachers or professional person. I made alot of phone calls to many agents, when I talk to my close friends Bruce about selling the house. Bruce told me that he would have a best person that could help me on that which is Miss Ava Nguyen. Through the phone calls with Ms. Ava, she told me to meet up with her which she could explain more details to do for ours house. We could ask Ms. Ava anything and she would have a solution for it. She would go extra miles just to reach the solutions She is well or the best agent for ours job and i am sure she can help other people too. I would recommended for anybody need help, because she can give you a lot of ideas and show you what you should do to your house. She is the best for the job.
Ava is a super agent! She is trustworthy, knowledgeable, dependable, and caring. She honestly cares about your situation and provides the honest answers to your house hunting needs. I bought a condo with her tremendous help a couple of months ago and our experience has been wonderful. Ava was
always available to answer questions, not only about real estate but also about financing, to school ratings, to neighborhood growth potential. We really felt that she was in our best interest. She showed great patience with us as well, as I have to admit, we were not the most decisive buyers out there. We took out time and Ava was always supportive and we never felt pressured to buy. Plus her knowledge of the complicated mortgage process really helped us as she knew more than the bank on the new strict laws that came out during our application process, and prepared us for issues before it happened. And when the issues that Ava predicted might happen, happened with the bank, she was calm and provided the right guidance to both us and the bank to get the issues resolved. She will work with you every step of the way and we felt confident that with Ava as our agent, we will be take care of. I definitely rate her as the best agent in the Northern Virginia and DC metro area hands down.
---
Cô Ava là một real estate agent rất là giỏi, dễ thương, thân thiện, và nhiệt tình. Vợ chồng em rất may mắn khi được biết đến cô trong quá trình mua căn nhà đầu tiên. Qua hai tháng vất vả đi xem rẩt nhiều nhà, vợ chồng em đã mua được một căn nhà rất ưng ý ở khu

South Riding, Chantilly. Cô Ava giúp vợ chồng em mua được nhà tốt, đẹp, không những hợp giá tiền mà còn rẻ hơn những căn nhà gần đó rất nhiều. Cô Ava rất giỏi khi trả giá với chủ nhà và làm việc rất nhanh. Em rất cảm ơn cô Ava vì trong quá trình mua nhà đầu tiên của vợ chồng em. Chúng em tin tưởng cô Ava se giúp nhiều người mua được những căn nhà tốt và đẹp.
Ava did a great job for our family both as our buying agent and selling agent. She guided us through prepping our house for sale, sharing wh
at updates would get the best returns and which ones weren't worth the money. Our house was staged, marketed and sold quickly. When looking for a new house,

Ava's knowledge of the local area helped us narrow down target areas that met our must have list. She was responsive when we asked to see houses getting us there as soon as possible knowing that good ones disappear off the market quickly! She helped us negotiated and get us the house we wanted in a competitive bid environment. But she didn't stop there! She guided us all the way through close of both properties ensuring that we didn't miss a step and everything went smoothly. The icing on the cake was Ava's patience as we did all of this with 2 small kids. My kids consider her family! I would highly recommend Ava as an agent!
We bought a home with Ava's help last August and this review is long overdue, since she provided an exemplary service and the least I could do was write a review. She was very helpful and patient in our search. She was always smiling and upbeat. I never felt like she pushed us into anything we did
not feel comfortable with. She would always give us our options and patiently wait for what we decided to do. My 5 year old daughter absolutely loved her and still talks about Ava with great affection. Even though we bought a home a while ago, we have reached out to Ava on several occasions and she would promptly respond with all the answers pertaining to the questions asked about the house. I am very pleased with her services and would definitely recommend her as your real estate agent.
Review Rating: 5/5 Stars
---
---
---
This was my second home purchase, but my first single-family home purchase. When I bought my first place, a condo in 2017, I worked with an agent that seemed to have everything together and we closed fairly smoothly. However, after I closed, I had a number of issues that I felt could've been prevented with better due diligence upfront. For example, my HVAC broke and I would've paid $15K to fix it if I didn't purchase my home warranty policy. Since this was my first home purchase, I was relying on that agent's expertise to protect and inform me. When I started working with Vance, I immediately felt she was a different class of realtor. I knew I was shopping in the off-season with very thin inventory in the market, so I expected to have to compete with other buyers. When this property came to market, Vance shared it with me within 2 hours of it listing. We went to go see it in person 1 hour from then. After seeing it, I knew this was the right property for me and I wanted to make an offer. Vance's strategic offer recommendations helped me get my house for $10K under list price, $11K seller credit to pay for ALL of my closing costs, and we got the sellers to clean up the landscaping as well. She also drafted and submitted the offer/contract within the same day we saw it - which I truly believe was a big factor in the sellers accepting my offer. My experience with Vance was night and day in comparison with my first realtor and I refuse to work with anyone else in the future. She got me the house I plan on raising my first child in and I plan for her to assist me with my next move. To sum up her service in one word, EXCEPTIONAL!
Ava is very professional, friendly and helpful. I was please to work with her. She helped me to rearrange, decorate the house. She very active and responsibility. She oftenly called to keep track the process of selling house.
Review Rating: 5/5 Stars

Ava has the knowledge of the market and helped us navigate the home buying experience so that the stress is minimized. She is always working in our best interest and not just wanting to make a sale and goes the extra mile to protect us and our large investment. Ava and her team made it easy for us to tour and view homes with our extensive work schedules.
Ava is VERY k

nowledgeable about the market, staging, brings great experience to the table, knows the experts to call to make your home ready for sale (painting, staging, cleaning etc.). When you work with Ava, you know she is honest, caring and wants to help you succeed in selling your home for a fair price. She has many great ideas for open houses, for marketing your home and on top of the latest trends. Overall, a pleasure to work with and I would recommend her to EVERYONE! Thank you Ava!
Review Rating: 5/5 Stars
Ava helped me buy a condo and was very responsive to my questions. I would gladly recommend her to friends and colleagues. In particular, her knowledge of the area and market analysis impressed me. She is not pushy. Additionally, Ava has a great team behind her so the transaction went smoothly.
---


Ava was excellent! My parents are proud owners of a new home and they would like to say that they appreciated everything that Ava has done for them during this crazy process. She was able to establish a quick and trusting rapport with my parents which I believe made the process go more smoothly

than previous attempts of my parents buying a home. She acted as a translator also for my parents who primarily speak Vietnamese. They trusted her negotiation skills and are very content with the selling price! Ava was very honest and respectful towards every decision my parents made and in the end they are more than satisfied with the decision of purchasing their new home! Thank you Ava!
User Zuser20140613093307492 in Zillow
This was my first rental property and I was absolutely terrified of the idea of having to interview potential tenants. I had approached John through mutual friends about assisting me with finding the "right" tenant. I had a number of things in motion at the time, including my new home purchase, so I was on an extreme time crunch. As soon as I met with John, he hit the ground running. Aside from helping with the clean up of the property, even helping with tiling and painting, I'm most grateful to John for relieving an enormous amount of stress off my plate. He held a number of highly marketed open houses, conducted several showings, and meticulously went through every tenant application. In the end, he found me a reliable tenant that every landlord wishes they had. I've worked with a few realtors in the past, but John is truly a different class of realtor – one that goes above and beyond for his clients. I can't wait to work with him in the next one.
---
Ava was helping me a lot in finding my gorgeous new home, I learned much detail about the market, area, and her connection to get my good loan for the house; her understanding, knowledge helping me in the decision to buy my new home. Thanks!
User Hongmdoo in Zillo
w
Top-notch realtor and it has been an exceptional experience working with Ava. Words can't even begin to describe how awesome she is and I would highly recommend her to anyone. She is very knowledgeable and makes the journey stress free for us from the beginning and to end. You won't be disappointed
working with Ava.
User zuser20170821120028662 in Zillow
Ava knew what to say and when to say it to the seller and selling agent in order for me to get an amazing deal on the home of my dreams. She is very knowledgeable and experienced, which helped me a lot as a first time home buyer. She always had my best interest in mind and gave me great advice
throughout the entire process.
Review Rating: 5/5 Stars
---
We had a great experience using Ava as our real estate agent. She knew what was available in our area and price range. We needed to act quickly and Ava always responded to our inquiries quickly and professionally. She made the entire process much easier than I expected. I recommend her highly.
Review Rating: 5/5 Stars
User Pammartino

v in Zillow
---
Ava, helped us in buying our first home. She was extremely knowledgeable of the area we were looking in and explained pros and cons of each neighborhood in detail to help us narrow our decision. Schooling was a critical issue and she showed us houses that match our needs. She helped us navigate the
process from choosing the right home to closing and was on top of things the entire time. She responded to our questions and issues promptly and was available for us to contact any time of the day. Highly recommended!
---
Ava showed me the properties I requested to see in a timely manner. She explained the characteristics of neighborhoods and indicated which were "up and coming" places to settle. When I put a contract in, Ava helped me with questions for and negotiations with the listing agent. I was very impressed by
her knowledge and expertise and appreciated her warm, caring attitude.
Review Rating: 5/5 Stars
---

Ava made my family's first home-buying experience seamless. As a DC metropolitan area native herself, she was very knowledgeable about the local market. She went out of her way to show us different homes and coordinate contractors for remodeling estimates all on short notice. We got our home
for significantly less than we expected because of Ava's quick eye for homes meeting our criteria and strong negotiation skills. As a person, she is very upbeat, caring, and professional.
I would highly recommend her to my friends looking to sell or buy in the DC area!
Review Rating: 5/5 Stars
Thank you John for all your great support and help through this home selling process. I'm glad you were our realtor, you treated our house like it was your own! You are an amazing agent that's always on top of your game! You work very hard and for that, we really appreciate your effort to sell our house. Hopefully, we will work again on the next transaction!
Davan
---
John was amazing throughout the whole transaction. From the beginning, we had a great impression of John as he took the time to listen to our situation and understand what was best for us moving forward. Because of our tight financial situation, John was able to start the home-selling process immediately. He did more than what was expected by doing some of the repairs around the house himself along with cleaning, staging, and marketing! Considering it was the beginning of the pandemic, we weren't sure how much traffic or attention our house would get but John was able to adjust by holding multiple open houses, 3D tours, and virtual tours. Soon enough John was able to find a buyer for us. I am very pleased with his services and would highly recommend John as your Realtor.